2017.04.10
37th International Dental Show After Report
Thank you very much for your visits to our Osada booth at IDS 2017.
We appreciate for a lot of feedbacks and opinions at our booth.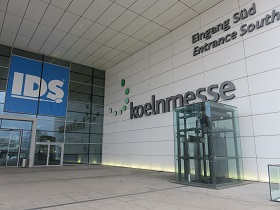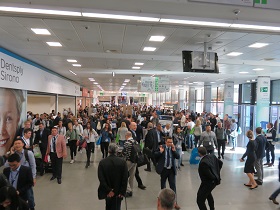 The world biggest dental show, IDS, International Dental Show, where about 160,000 people gather from all around the world, was held at Cologne in April 2017, and OSADA also participated in and exhibited company's major products.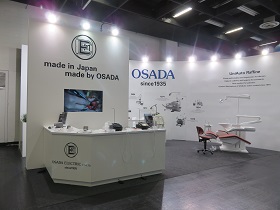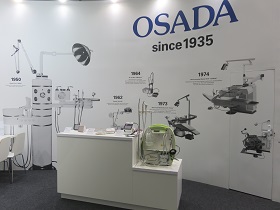 Our title'Made in Japan, Made by OSADA' and the history of the product innovation was shown on the exhibition panel. Many of the visitors stopped before them and photographed the change and development of the products. Surely, they must have noticed the history of Japanese dental products.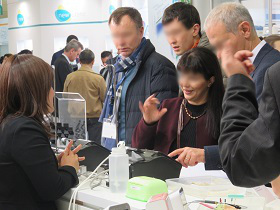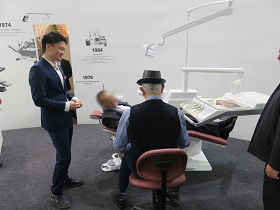 The Apex locator, 'Apit 15', Dental piezo electric bone surgery device, 'Falcon', dental laboratory electric handpiece, 'Success 40', were displayed in the front for many of present users and new visitors to experience the comfort of the use.
The dental unit, from the Uni-auto series which own the long-term fame, 'UniAuto Raffine' was displayed. The chair with quiet floating movement, smooth auto-return movement of the operating light were in the center of visitor's attention.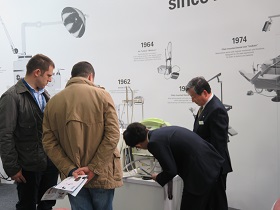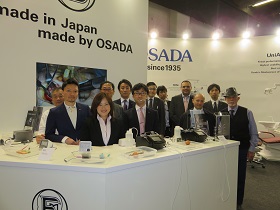 The portable unit 'Daisy' and the semiconductor laser, 'Light-surge Celby' were also displayed. The products which symbolize the technological competence of OSADA were catching the visitors' eyes and attention.
We are looking forward to the next opportunity of the exhibits.
Osada exhibited at 37th International Dental Show
Date: March 21- 25, 2017
Place: Koelnmesse GmbH - Germany
Booth: Hall 11.1 Stand J-050