Precise display with the top accuracy.

Apit 11 uses two different frequencies to detect apical foramen, with the value gained from the comparison of the balances of impedances by two different frequesnces measured at two positions in the root canal.
■Features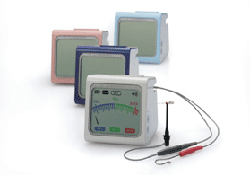 Easy adjustment function allows for different usage for each specific root canal and enhanced precision and accuracy.
Two measuring modes are incorporated in this model:
1) automatic mode and 2) manual mode (dentist's technique dictates decisions)
The movement of the file can be read easily and accurately as a result of the clear large liquid crystal display.
Four AA-size alkaline dry batteries can work for up to 150 hours of continuous operation.
*The product colors shown here may look different from the actual colors as shown here by digital display.
*The product is subject to change without prior notice for improvement.
*The photos shown are images.
Product Information
Product name (Model)
Osada Apit 11 (EM-S11)
General Designation
Apex locator
Manufacturer
Osada Electric Co., Ltd.
Power voltage
DC6V. (4 pcs. of AA-size alkaline dry battery)
Input: 15mA
Dimensions
W100 x D79 x H101 mm